…bringing local communities together through the sport of Lawn Bowling
________
""He knocked my bowl into the ditch," Daisy protested. "Is that legal?"
"Oh, yes," Lord Llandrindon said. "A bit ruthless, but perfectly legal. Now it is properly referred to as a 'dead bowl.'"

~Lisa Kleypas, Scandal in Spring
________
Seven Kings Bowling Club has been part of the Ilford and Seven Kings community for over 90 years.
For those living in the Seven Kings and Newbury Park area, SKBC is your local bowling club, open May to September, for lawn bowling practise and hosting matches.
SKBC welcomes players of all abilities, diverse backgrounds and age groups. It is about having fun as you learn a new sport, making new friends and keeping fit! It's Lawn bowling bringing communities together.
Bowling is not an "old persons game" to be taken up after retirement! As was evident in the recent Commonwealth Games, it is inclusive and popular the world over, so please come and try a few "roll-ups", no matter your age. Who knows, you may surprise yourself that the sport grows on you!
Bowling also makes for a healthier lifestyle: a typical match entails walking up and down a beautifully cut "green" (like a golf putting green), bending down to pick up your bowls (also called "woods"), taking a considered "stance" in your lane ("rink") of the green, then releasing the woods, one after another, each with calculated momentum to travel to the other end, hopefully striking the "jack" and stopping closest to it.
Wednesdays are mostly "Club Days", ideal for new and prospective members to come along for trial "roll-ups" and free coaching. There are also a few "Family Days" and social events held throughout the year for player members and their families.
For experienced players, the Club offers a friendly environment to further hone their bowling skills, to pass-on their expert knowledge of the sport to fellow club members, to coach newcomers and take part in local and regional league competitions.
For the 2022 season, the Club plans to open most weekdays and at weekends, depending upon the interest and demand to play. You can help generate that interest and demand!
If you happen to be visiting London during the summer months and are an avid bowls player, feel free to contact the Club to arrange to come over for a chat over a drink and a friendly game of bowls!
Please feel free to contact the Club about opening days/times, membership, corporate team-building events and any other queries you may have by clicking here.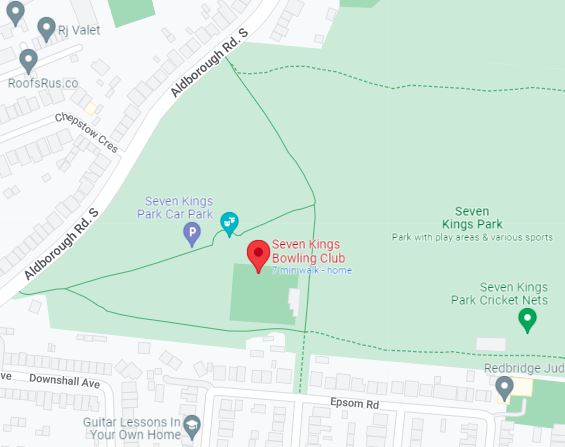 Aldborough Road South
Seven Kings
Ilford
Essex
IG3 8QP
Click here for Google Maps directions to Seven Kings Bowling Club